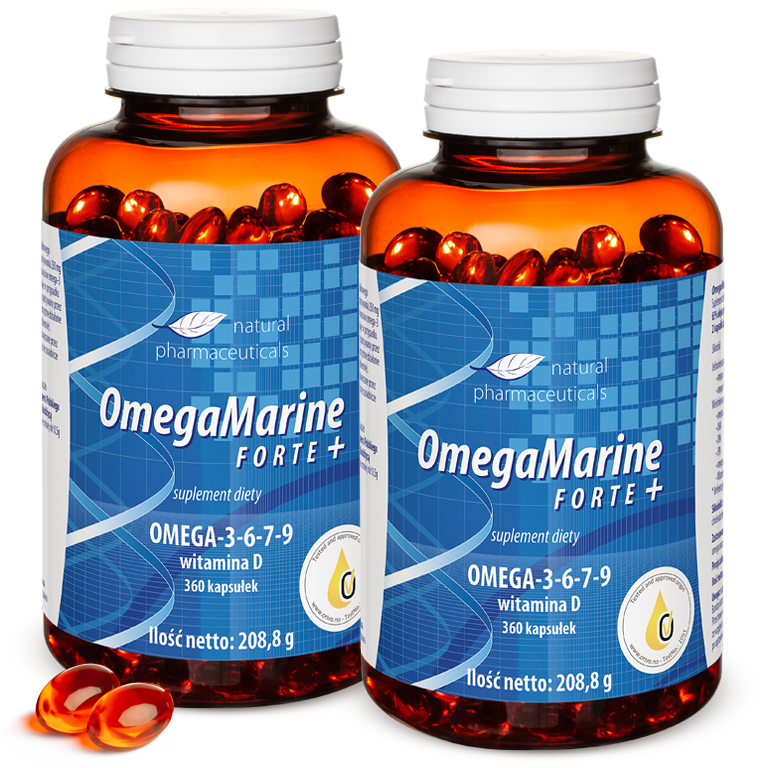 OmegaMarine Forte+
High-quality Omega-3 from Norway
Omega-3 fatty acids (DHA and EPA) are good for our heart, brain and eyes
Made from Norwegian salmon living in arctic cold waters of northern Norway
From salmon to salmon oil in less than 75 minutes – freshness is key!
Small, easy to swallow capsules
No fishy aftertaste
First Omega-3 supplement in the world with Norwegian ORIVO certificate
Enhanced with vitamin D3 which helps your immunity
Just two capsules a day!
Norway has been building its reputation as a reliable, high-quality producer of Omega-3 fatty acids for several decades. OmegaMarine Forte+ was created based on this extensive knowledge and experience.
Comprehensive production quality management and random laboratory tests carried out at every stage guarantee that you receive the same amount of high-quality Omega-3 acids (DHA / EPA) in each capsule. As nutritional awareness increases, the demand for high-quality Omega-3 fatty acids increases. Omega-3 is currently the most recommended and preferred dietary supplement worldwide.
Salmon oil has a unique composition, that is different from the oil of other marine fatty acids. Most other oily fishes consist of just two of the three essential fatty acids, EPA and DHA. Salmon oil also contains the third, DPA. All these three fatty acids are vital to our body. It is quite telling that human breast milk, the most crucial nutrition there is, is richer in DPA than EPA and DHA.
Freshness is the most important feature of high-quality Omega-3
The best and most effective omega 3 are those that can keep fresh over time. No one likes rancid fish oil. Salmon oil has an advantage over all other types of fish oil, as it is naturally rich in one of the world's most potent antioxidants, astaxanthin. It means that omega-3 from salmon oil keeps freshness well, to prevent fishy burps and unpleasant aftertaste.
To protect the valuable salmon oil from oxidation, we use a superior grade of gelatin and the latest encapsulation techniques. The encapsulation process protects the oils against oxidation and maintains a constant, high concentration of Omega-3 acids.
We are incredibly proud that OmegaMarine Forte+ meets the highest standards of the European Union, and even more. Our capsules also undergo random quality tests by the Norwegian authorities. Our production processes are modernized continuously so that OmegaMarine Forte+ is synonymous with the highest naturalness, purity, freshness and quality. We want it to meet the expectations of our customers fully.
How is OmegaMarine Forte+ made?
From fresh fish to omega-3-rich oil in less than 75 minutes!
We produce OmegaMarine Forte+ from high-quality salmon oil. Our salmon live in the arctic cold, fresh sea waters of Northern Norway. Live salmon go straight from the sea to the factory, where we extract fresh fish oil from them. SALfreshTM oil is made within 75 minutes of catching a salmon in the Arctic Ocean.
We use whole fish to produce our oil. Salmon pieces go to a special grinding machine, where they are crushed or processed directly into a slurry. They are then stored in a buffer tank. The pasteurized salmon slurry is then minced mechanically using the Tricanter®.
This specialized centrifuge, with minimal exposure to heat, separates the fish suspension into three streams: solids, water and salmon oil. It is a 100% mechanical process in which two liquids are divided according to their different densities. The last stage is filtration, which removes all unnecessary particles and leaves a clear, fresh oil. The antioxidant (0.17%) is then added to the prepared salmon oil. The last step in the process is packaging and storage under optimal conditions.
The high quality of OmegaMarine Forte+ is the highest priority!
Natural Pharmaceuticals uses the latest production technologies and ensures full quality control. We are one of the few companies producing Omega-3 fatty acids that has control over its entire production process – from salmon fishing, through all stages of processing, to the closing of each OmegaMarine Forte+ package.
We only use clean, safe, fresh and natural raw materials. We ensure full traceability of salmon oil. OmegaMarine Forte+ is the first Omega-3 supplement in Poland with the Norwegian ORIVO certificate.
In addition to salmon, OmegaMarine Forte+ consists of highly concentrated fish oil from the Pacific's, made of anchovies, sardines and mackerel. The oil is refined by the leading omega-3 refinery in Norway, GC Rieber VivoMega. This company make the best quality fish oil concentrates there is, with high quality in terms of freshness and taste.
OmegaMarine Forte+ provides a rich source of the essential fatty acids DHA (Docosahexaenoic acid) and EPA (Eicosapentaenoic acid) to help maintain health and wellbeing. EPA and DHA are classed as essential fatty acids because they cannot be made efficiently by the body and must be obtained through the diet.
DHA helps to maintain normal vision1 and brain1 function.
DHA and EPA contribute to the normal function of the heart2.
1A beneficial effect is obtained with a daily intake of 250mg of DHA.
2A beneficial effect is obtained with a daily intake of 250mg of DHA and EPA.
OmegaMarine Forte+
65% 33/22 EE fish oil (anchovy, sardine, mackerel) and 35% salmon oil
2 capsules contain 800.2 mg of oil, of which:
| Ingredients | 2 capsules | NRV * |
| --- | --- | --- |
| Monounsaturated fatty acids: | | |
| • Omega-7 | 10 mg | – |
| • Omega-9 | 130 mg | – |
| Polyunsaturated fatty acids: | | |
| • Omega-3, of which: | 346 mg | – |
| DHA | 112 mg | – |
| DPA | 4 mg | – |
| EPA | 162 mg | – |
| • Omega-6 | 42 mg | – |
| Vitamin D3 (cholecalciferol) | 5 μg | 100% |
* % Recommended Nutritional Value (NRV)
Ingredients: refined salmon oil, sardines and anchovies oil, gelatin, glycerol, vitamin D3 (cholecalciferol).
OmegaMarine Forte+ – two capsules a day

How to use: The purpose of the product is to supplement the daily diet with omega-3 fatty acids and vitamin D3.

Recommended daily dose: 2 capsules per day

Net weight: 208.8 g (360 capsules per container, 0.58 g each)

Dietary supplements do not replace a balanced, varied diet. Keep out of reach of children. Danger of suffocation in children under 3 years.
It is recommended during pregnancy, on the advice of a doctor. Don't exceed the recommended daily dose.

Validity: until the date written on the package

Manufacturing series: written on the packaging

Storage: at max. 25 ° C, protected from light and moisture

Manufactured in Norway by Pharmatech AS for
Natural Pharmaceuticals Sp. z o.o.

Distributor: Natural Pharmaceuticals Sp. z o.o.
Domaniewska 28, 02-672 Warsaw, Poland